A listed area
The Espiguette lighthouse is at the heart of an exceptional territory. Visible from several kilometres away, it is the major building of the Espiguette natural site: a singular, wild and preserved but fragile place classified as a Grand Site de France.
L'espiguette, a classified area of the great site of france camargue gardoise
The Pointe de l'Espiguette, classified as a natural site in 1994, and the lighthouse, classified as a historic monument in 2012, form one of the four classified sites of the Camargue Gardoise, which has been labelled a Grand Site de France since 2014. This label recognises the uniqueness and exceptional preservation of these landscapes, the result of constant interaction between man and fresh or salt water wetlands.
WELCOME TO THE CAMARGUE GARDOISE !
The Camargue is a land of rice fields, bulls, flamingos and horses, but it also has age-old traditions that can be discovered in the arenas or in the streets of our villages. A nature to be discovered gently thanks to the many footpaths, bicycle paths and even canoeing on the eco-paddling path. Constantly changing landscapes, where fauna and flora display all their diversity. Between plains, meadows, marshes, pine forests, hidden paths, small roads, tracks... The light of the whole Camargue in all seasons is dazzling.
Since 2018, the Camargue Gardoise has also been awarded the Grand Site Occitanie label. Some forty must-see sites scattered throughout our Occitanie region offer the best of our territory, its history and its great landscapes. A brand, a label, a collection unique in France.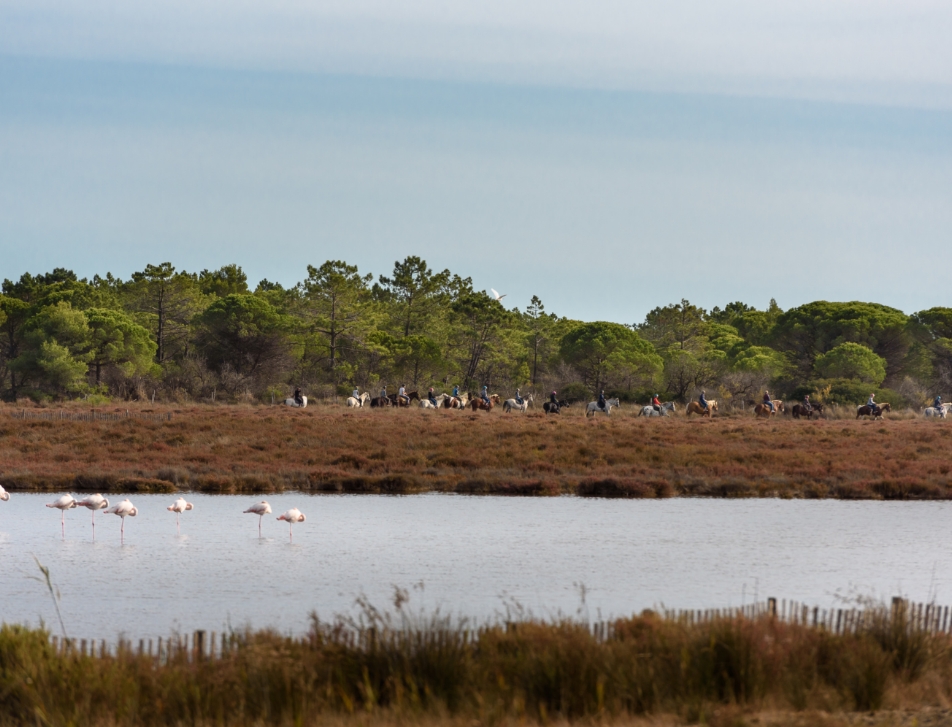 THE BEACH IN ITS RAW AND WILD STATE
Unusual and serious, lost in the middle of the sand, the lighthouse of Espiguette is today an integral part of the dune landscape of the department of the Gard : it is both the icon and the beacon.
The dune massif of Espiguette, immense and wild, crossed by barkhanes, swept by the winds, burnt by the salt and the sun, appears today as an authentic natural territory, virgin of any human intervention. With its white dunes that reach up to 12m high, and its endless beach, the Espiguette forms a dune system admired by all environment lovers.